Ambassador Series
About Ambassador
The name says it all. Representing International Window as the first line of aluminum windows and doors to meet the Energy Star performance standard and earn the highly recognized Energy Efficiency Rating, the Ambassador 8200 Series Window and Door Collection is sending a clear message-IWC is an industry pioneer. The clean lines and precise proportions create a contemporary look unsurpassed in the industry. Leading the way to meet and exceed the customer's need for high-quality, energy-efficient, beautiful windows and doors, IWC has been the prominent choice of clients for 50 years.
ThermoTech™ Design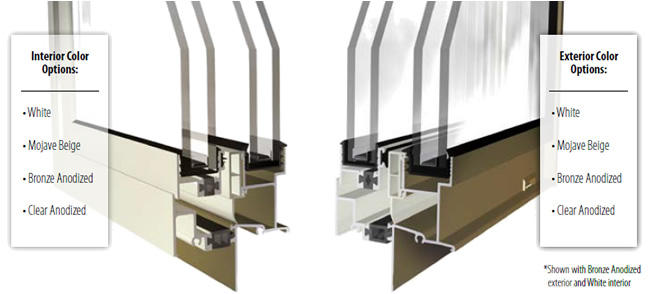 Durability of Aluminum with the Energy Savings of Vinyl
• Split Color Options Available
• Lifetime Warranty
• Durable & Maintenance-Free
• Energy Star Rated
Aluminum windows for all seasons
When energy efficiency is a priority, the Ambassador can meet this demand at a price that won't break your budget. Glazed standard with high performance Low-E glass, the Ambassador window system is so energy efficient that it has earned the Energy Star label as established by the "Energy Star Program." This translates to lower utility bills all year long, wherever you live.
New innovative windows from IWC
Tired of looking at dark frames against your white walls? Can't achieve that Southwestern look on your home's exterior with white  frames? Look no further. The Dual Design of the ThermoTech™ extrusions allows you to achieve the designer look you desire. IWC's Energy Shield Low-E glass is standard in all Ambassador products.