Vinyl Windows and Doors
A Tradition of Quality
We've Weathered The Storm
Where Were You…
in September of 1959 when a tropical storm hit Northern California and dumped 12 inches of rain in one day?
in 1962 when the Columbus Day storm hit Oregon, Washington and Northern California, causing $250 million in damage?
in 1973 when Hurricane Ava unleashed 120 mph winds on the Island of Hawaii?
in September of 1977 when Hurricane Doreen devastated parts of Arizona, causing $25 million in damage?
in 1998 when El Nino hit the Pacific Coast?
Hopefully, in a home equipped with International windows.
Let's face it – life has its share of stormy weather. That's why it is important to furnish your home with windows and patio doors that you can depend on. For over 50 years, International Window has specialized in making weather-resistant windows and patio doors in a variety of styles. In other words, we worry about the weather forecast . . . so you won't have to.
True to its namesake, the Majestic Series is distinguished in beauty, strength, durability and functionality. Every window and patio door is constructed from the highest grade vinyl available on the market today. The Crown Series offers homeowners attractive, functional windows and patio doors at an affordable price. Whether you are redecorating, building a new home, or adding on to an existing one, our comprehensive line of vinyl products offer a stylish look to fit every budget.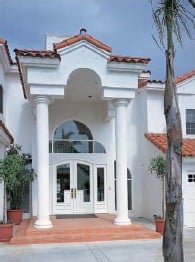 Vinyl Window & Door Products
LANAI SERIES
Lanai 5000/5100 Series Hinged Door
Lanai 5600 Series Sliding Doors
MAJESTIC SERIES
Majestic 5900 Series Sliding Doors

CROWN SERIES
Crown 5300 Series Vinyl Windows
Crown 5300 Series Vinyl Patio & Picture Doors
Crown 5365 Series Vinyl Retrofit Windows
Over the past 50 years, other window companies have come and gone. Sure, there are still a few good ones. But at International Window Corporation we've weathered the storm . . . and there's just no substitute for experience.
Features
At International Window, quality is our trademark. That is why we leave nothing to chance. We use quality vinyl in all of our windows and patio doors. Each product then undergoes rigorous testing to ensure its adaptability to changing climatic conditions. By using state-of-the-art technology, we are able to consistently manufacture premium windows and patio doors.
Many companies talk about customer service, at International Window, we embrace it. Treating each customer with respect and dignity. That means keeping our promises, standing behind our products, shipping on time and listening to our customers' needs and our dedicated sales staff is available to assist you. Frankly, we value you as a customer, we appreciate your business and we'll do what it takes to make you happy. It's that simple.