Gentry 5400 Series Vinyl Windows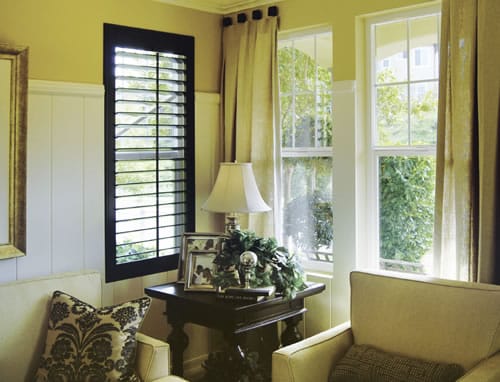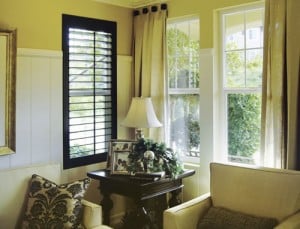 During the past year, energy costs have spiked up to record levels and everyone has been affected. Therefore, International Window Corporation recognized the need for a new generation of energy efficient windows. Energy efficient windows can help lower a home's heating and cooling costs. We proudly present the 5400 Gentry Window Series.
Triple Glazed Design (Optional) – energy efficient window with three panes can lower noise, improve room temperature and lower heating bill.
Sleek Low Profile Latch – formed into the window sash for a sleek low profile latch.
Unique highly efficient weep hole system – a new system that allows any water entering the space between the window sash and frame to drain safely to the outside and helps reduce dust penetration.
Secondary Night Lock – enables the window to remain in a locked position while providing ventilation.

Important Points And Key Features
Available in 9 types of windows
XO, XX, SH, SL, DH, PW, PWSL, C/A, and CF
R5 Window – Revolutionary Energy Efficient Window utilizing triple glaze option
1" nail-on, 1 3/8" nail-on, block frame and Flush-Fin (retro-fit)
3/4" overall IG units and 1 1/8" overall triple glazed option
Improved acoustical performance
Hurricane rating available
Integral stack bars (Standard)
Energy Star Compliant
Flush fin installation screw covers
Large size rollers (Providing smoother and easier opening and closing with 3 position height adjustments to custom fit the installation)
Flush-fin's edge has a recess for a clean tooled exterior chalk joint
All windows types have even site lines
All interior edges are beveled for a clean modern look
Triple Glazed Design
The benefit of Triple Glazed Design is in thermal performance. When it comes to staying warm inside during the cold weather, less energy will be used in heating when you are using triple glazed window. This means your windows will keep the heat inside your home, no matter what Mother Nature throws at you.


Triple Glazed Design Features
3 pieces of glass in the insulated unit
2 pieces of high performance Low E Glass
Optional #6 surface Low E Glass
Extreme Glass Upgrade
This Extreme Glass Upgrade can help a dual glazed window generate energy rating scores that outperform other triple-glazed windows in the market. For additional performance, this Special Glass Upgrade can be used in our triple glazed application.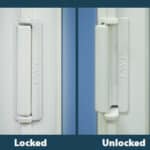 Sleek Low Profile Latch
This new window latch is designed with one simple easy movement operation and has a sleek, low profile design for a streamlined look. When the latch is aligning, the window is locked. When the latch is tilted to the side, the window is unlocked. This means the window lock is difficult to view from outside, creating a streamlined look and increased security.
Horizontal Sliding
Even site lines
XO has secondary ventilation lock that will meet security standards
XO has oversized wheel and housing to improve operating force
XO roller has nylon housing, stainless steel axle and delrin wheel
XO roller has 3 adjustments ranging from 0 to .080 (over 1/16") to increase the ease of installation
XO has low profile latch with "hold open" feature to easily spot an unlatched window
XO low profile latch does not interfere with sitelines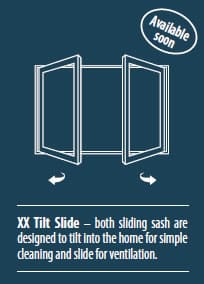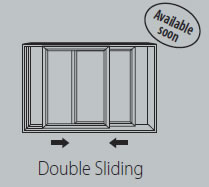 XX has tilt in hardware for easy cleaning
XX has heavy duty track that prevents sagging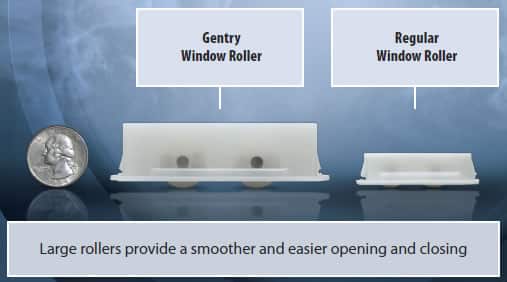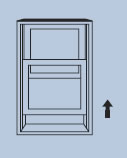 Single Hung with tilt out or side load
Even site lines
Low profile latch with "hold open" feature to easily spot an unlatched window
Low profile latch does not interfere with sitelines
Tilt in single hung has "inverted" balance with built in shoe so that the vent can be easily removed
Side load single hung has oversized guides for easy removal of the vent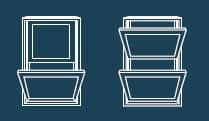 Both Single and Double-Hung tilt windows are designed to tilt into the room for easy cleaning. Both sash slide and tilt on a double-hung tilt window. The bottom sash slides and tilts with a single-hung window.

Double Hung
Even site lines
Low profile latch with "hold open" feature to easily spot an unlatched window
Low profile latch does not interfere with sitelines
Tilt in double hung has "inverted" balance with built in shoe so that the vent and balance can be easily removed

Picture window using either single hung frame or XO frame.
Outswing Casement / Awning
Multi point hardware standard on Casements
Butt hinge type
Outswing French Casement
Standard French casement has no center mullion for the look of a "True French Casement"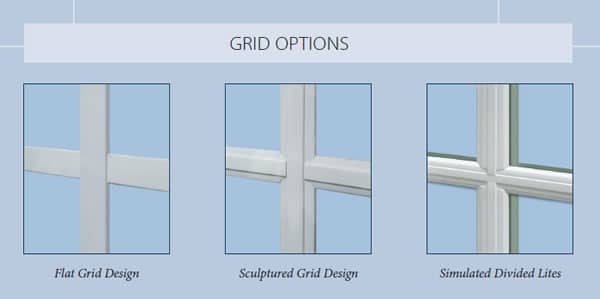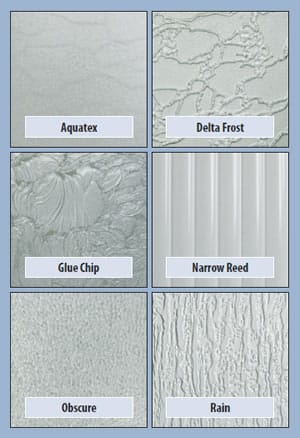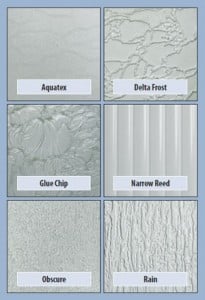 Decorative Glass Options
Allow light to enter the room while maintaining privacy with textured glass. We offer a wide range of styles to meet your design requirements. Here are some of the most popular choices are shown.
Additional Glass Options
Energy Shield Xtreme glass – This glass helps block more heat and ultraviolet light, resulting in increased comfort and energy savings.
Argon Gas – An inert, non-toxic gas used in insulating glass units to reduce heat transfer.
Tempered glass – Strong, break-resistant glass created in a secondary process via controlled air cooling of the heated glass. Tempered glass is four times stronger than annealed glass; a form of safety glazing. When shattered, it breaks into small pieces.
Laminated glass – Two pieces of glass with an inner layer of transparent plastic to which the glass adheres if broken. Used for safety glazing and sound reduction.
Exterior Color Options
Find an exterior color that works with your home's existing trim or select a color that shows your personal style.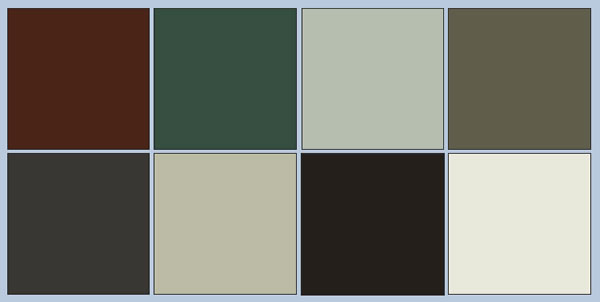 Actual colors may vary from the samples displayed and are subject to regional availability. Check with your International Window Sale Representative for details.
ABOUT OUR WARRANTY
At International Window, quality products are our trademark, which is why we have left nothing to chance. Our Lifetime Warranty program is to help assure you, our valued customer, that International Window stands behind it's products.
For more information regarding the International Window Lifetime Warranty please contact your authorized International Window Dealer or click here.
International Window Corporation appreciates your interest in our windows and doors and will continue to make strides to provide you with the highest quality and value.