Aluminum Windows and Doors
A Tradition Of Quality
WE'RE THE CALM BEFORE – AND AFTER – THE STORM
It's unpredictable. It's inconvenient. And yes, it can show up at your doorstep unannounced …
… The Weather.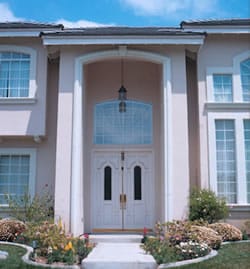 That's why we've designed your windows with two very important things in mind: accenting your home and protecting it from harsh weather conditions.
At International Window, we can't predict the weather. But we can predict where it will stay – outside your home. We've spent over five decades perfecting our line of aluminum, vinyl windows and doors. In fact, as one of the early pioneers of aluminum windows, we're pleased to offer you one of the largest selections of aluminum windows available on the market today.
Over the past 50 years, other window companies have come and gone. Sure, there are still a few good ones, but at International Window, we've weathered the storm . . . and there's just no substitute for experience.
Features
At International Window, quality is our trademark. That's why we leave nothing to chance. We use premium quality aluminum extrusions in all of our windows and patio doors, offered in mill finish, clear or bronze anodized and white or bronze paint. Then each product undergoes rigorous testing to ensure its adaptability to changing climatic conditions. By using state-ofthe-art technology, we are able to consistently manufacture top quality windows and doors.
A lot of companies talk about customer service. At International Window, we embrace it – by treating each customer with respect and dignity. That means keeping our promises, standing behind our products, shipping on time and listening to what our customers have to say. Our dedicated sales staff is available to service your needs. Frankly, we value you as a customer. We appreciate your business. We'll do what it takes to make you happy. It's that simple.
Table of Contents
RESIDENTIAL WINDOW SERIES
Series 6200
Single Hung Windows
Full, Half, Quarter Circle Windows
Picture & Acrylic Block Windows
Horizontal Sliding Window:
Casement & Awning Windows
Bay & Bow Windows
Window Configurations
Performance Matrix
RESIDENTIAL DOOR SERIES
Series 6900 / 6800
Imperial Patio Door/Economy Door
Door Configurations
Performance Matrix
Door Frame Profiles
COMMERCIAL PRODUCTS
Series 6200
Horizontal Sliding Window
Single Hung Window
TECHNICAL INFORMATION
Warranty Page